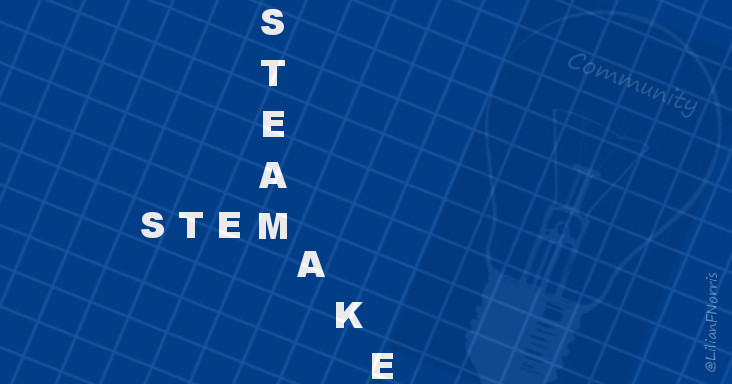 An Introduction to Making
To those who are unfamiliar with makers, makerspaces, and the maker movement, it all might sound like some enthusiastic hobbyists and crafters getting together for some DIY (Do It Yourself) projects. But, to those who have created makerspaces or have worked in them, they are keenly aware of their benefits and their huge potential.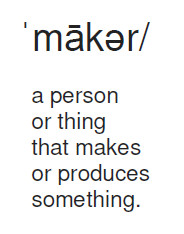 So first of all, what is a maker? As you can see from the definition on the left, it is a very broad term. Yes, it can encompass any hobbyist, crafter, or DIYer. It may also include artists of all types (audio or visual), robotics enthusiasts, engineers, designers, and inventors.
A makerspace is a place that furnishes a variety of tools, technology, and resources that enable users to simply create. They may house computer labs; 3D printers, electronics labs with soldering irons and milling machines; workshops with miter saws, drill presses, and machinery; recording studios; arts and craft resources, and sewing machines. Even bio makerspaces are emerging. General makerspaces are popping up all over in libraries, schools, and warehouses. They are sometimes referred to as hackerspaces (hack being referred to in a positive connotation with clever solutions). You may have also heard of high-tech
fab labs
, which are protyping platforms that stimulate technology-driven invention and innovation by entrepreneurs and start-up businesses.
These makerspaces promote creativity and inspiration, make connections, and facilitate collaboration in social places. Makerspaces celebrate community and are breeding grounds for invention and innovation. As creative people gather from different disciplines, they work in shared spaces as they produce their diverse projects. This platform allows for discovery, inspiration, and cooperation in problem solving and combining crafts.
One of the fantastic things about makerspaces is that they are tremendous resources to those who cannot afford to buy all the equipment needed to manufacture their own creations. These spaces can enable anyone with the desire to make things to do so. They provide accessibility to technology at the communities' fingertips. A person who has a great idea can design, build, and prototype products alone or work with others for dream realization.
The short video below provides a snap shot of different types of makers.
Source: Maker the Movie

The maker movement (the push to create makerspaces in communities everywhere) coincides with the push for more STEM and STEAM (Science Technology Engineering Art and Math) education. They all go hand in hand and support each other through project-based learning. Watch the video below to see how this youngster becomes fully connected in the engineering process within a makerspace.


Source: Edutopia

To make something yourself, with your own hands, is a highly engaging and educational experience. Creativity in design taps in to art skills and engineering. Creative art works have math rooted during the planning phases when determining size. Using technology, both high and low tech, is part of the building process. Exploring different possibilities in these invention zones can lead to greater advances in science and technology, as well as making better tools. This movement has huge potential to aid in education, manufacturing, the economy, and global good deeds. It can engage people to become part of the global community in sharing ideas.

People are inventing things and sharing designs for free. Open software and designs available on Thingiverse.com and GrabCAD.com enable anyone to 3D print many different objects or tools. One of the more amazing applications of this open-sharing is the grassroots effort led by e-NABLE to 3D print prosthetic limbs for children around the globe. Anyone with access to a 3D printer can assist kids in need in their region by simply printing hand designs, and volunteers assemble the parts for the recipient. This is sometimes done in schools and libraries. The short video below gives an overview of this program.


Source: e-NABLE
With the advent of new technologies, accessible information, and the free sharing of ideas, makerspaces are rapidly transforming and jump-starting the old hobby garages and tinkering places into community-based, high-tech invention zones.

Take a look around to see if there are any makerspaces in your community and drop in for a visit. What you find may just surprise you and inspire you to want to make something too!



---


Resources

For those who would like to learn more about setting up makerspaces, check out these fine resources:

Keep you eyes and ears open for MakerFaires, Maker Festivals, and Makercons in your area which are very exciting events and will give you a good taste of what it is all about. Check out this
List of Upcoming MakerFaires
around the world.

Although the video below is long, it provides good insights into the future: Congressman Mark Tokano discusses with the School Library Journal how the maker movement has the potential to drive the economy.


Source: School Library Journal
---
If you purchase any products through links in this post, I may receive small commissions. I thank you for your support.
---