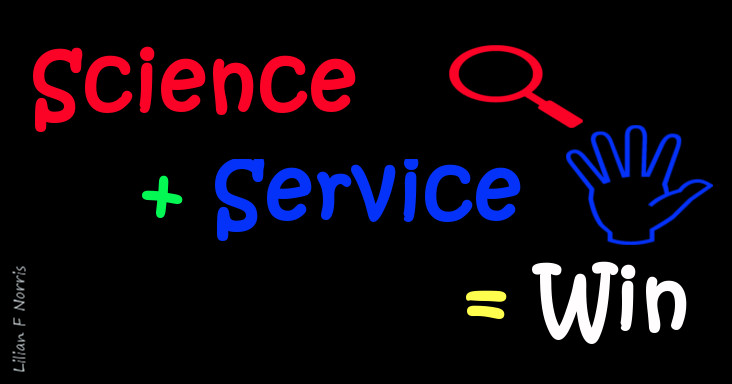 Service learning is so much more than philanthropy or fund-raising. It can be a powerful platform to engage learners in real-world, meaningful applications to solve actual problems. When the projects are chosen by the students, and when the kids can see the results in their own community it has the power to transform and empower them into leaders and to provide the realization that their efforts can make tangible differences. Service projects can benefit humanity, animals, our environment, or a combination of all three. This article will highlight just a few examples of remarkable projects.

There are so many amazing and inspirational youth projects occurring around the world which not only involve service to community, but also include science. "Combining community service projects with science teaching gives students an opportunity for interesting, authentic learning; teaches them about good citizenship; and connects them with adults and peers. These projects may not only increase students' interest in science, but also make a difference for students at risk of failing science or dropping out of school altogether," says Steve Metz.* He is the field editor of The Science Teacher (NSTA's journal for high school teachers).

In relation to science, service projects can be done by individuals or small groups in science fairs, or by entire classes guided with a mentor or teacher. Science can be woven into service learning projects in many ways depending on the topic chosen. Research and measurements can be done before the project commences to establish a baseline and then again at the end of the project to measure its impact. Examples can include surveys given to people to measure their knowledge on a certain subject or their behavior in regards to something; or data collection of numbers of animals, plants, pieces of trash found, or scientific testing data such as water quality analysis focusing on specific parameters.


The best way to find yourself
is to lose yourself
in the service of others.
- Mahatma Gandhi
Individual or small group projects seem to occur when an inspired person(s) randomly takes up a cause and follows his/her passions to research, invent, test, and make a difference. These typically are people who just happen to be independently motivated and particularly passionate about a particular cause, often due to events or circumstances that have deeply touched the individuals in some way.
Alternately, when encouraged by a teacher, students can work together as a class to make a positive change in their community while learning science. The teacher sets the stage and opens their minds to possibilities. When students focus closely on their immediate community and consider all its components, they can reflect upon its assets, its needs, and upon problems they would like to solve. When the students decide on a particular project and lead they take ownership of the project and become fully engaged.
A great non-profit organization that is leading in making transformative change around the world is the
Roots & Shoots
organization created by Jane Goodall. This impressive program trains teachers with a solid approach to be able to set up and execute highly effective campaigns with their students. Focusing on the local community is recommended so that students can directly witness changes and feel more empowered. The Roots & Shoots organization or its members may be able provide input, insights, or inspiration to others who join the program. A quick introduction by Jane Goodall about the Roots & Shoots program can be seen in the video below:

A fantastic example of a Roots & Shoots campaign led by Kate Klaver and executed by her 3rd grade class to make a difference for animals is one that also helped to protect the people in their community. This service learning in action focused on co-existing with wildlife and is entitled, "Coyote Clash." This project had a science component in which the students learned about animal behavior, coyote biology, and ecology and in doing so, completed their life science standards.

The students had a great realization in terms of the conflicts of coyotes with humans. They realized that young kids or non-English readers were not able to read the informative signage and brochures that had been created to avoid conflict. The students took the initiative to solve the conflicts through education. They used art to illustrate new signage that anyone would be able to understand in regards to what to do and not to do with coyotes.





High school teacher, Juliet Crupi, encouraged her Urban Farming students to take action using the Roots & Shoots methods and tackled how to engage them in science outside of the classroom. The solution she found was to let students use science as a tool for helping their communities. She allowed groups of students to tackle projects that were of most interest to them. Learn about the process, challenges, and impact on the community from her students' experiences through this short video:



The next example of a great science-based service project is one in which three Irish teens worked on together after they became interested in the global food crisis. They had learned about the famine in the Horn of Africa in 2011, and when they discovered a naturally occurring bacteria in their garden soil, they wanted to see if adding that bacteria could help in the germination of crops worldwide. These three girls, Ciara Judge, Émer Hickey and Sophie Healy-Thowwith, had a great passion for microbiology and did extensive research and field trials. They were recognized as grand prize winners of the 2014
Google Science Fair
.
Hayley Todesco is a Canadian teen who wanted to make a difference in her area after being inspired by an environmental documentary. She created sustainable and efficient sand bioreactors to break down naphthenic acid found in tailing ponds (left-over pollutants of the oil sands industry). The toxic waste in these ponds was said to require hundreds of years to degrade, but through her methods she found that detoxification could be accelerated to just decades. Haley also is a 2014
Google Science Fair
winner.
Sometimes incredible projects can be spearheaded by the leadership of passionate youth. This is the story of Jonathan DiCesare, an 18 year old from New York, who had a passion for sustainability and was curious about renewable energies. Searching for a suitable project to use for his Eagle Scout Project, he investigated how he could harness the power of water flowing over a small dam in his home town park. This historic stream had been known in the past for its water-powered mills which ground grains to flour. Jonathan designed a micro-hydroelectric facility which will produce electricity to add to the grid and at the same time educate the community. As part of his project, he got the support of engineers, local businesses, and the Army Corps of Engineers. He is crowdsourcing to raise funds through
http://www.gofundme.com/cobleskilldam
before construction can begin.
From this experience, Jonathan said, "With this project I'm contributing to increasing local and global awareness of the need for sustainability. I've realized that I can have an impact." Jonathan is a winner of the
Gloria Barron Prize for Young Heroes
, which celebrates outstanding young leaders. For more on this project, visit
www.facebook.com/CobleskillDam
.
*For more on information on science and service see
Blending Science and Service Learning,
a NSTA Report by Debra Shapiro.
---
If you purchase any products through links in this post, I may receive small commissions. I thank you for your support.