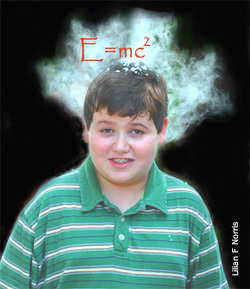 If you are looking for some great resources to get your kids inspired in STEM and STEAM (Science, Technology, Engineering, Art, and Math), check out the information below and be sure to review our own list of
resources
as well.
With the big push for STEM education,
Iridescent
, an education non-profit has been forging ahead with great free virtual curriculum. It trains "professional engineers, scientists, and parents to deliver cutting-edge STEM education to underserved children and their families." Its mission is to "create and deliver powerful science, engineering and technology education to help underprivileged children develop. It offers a wide array of learning platforms:
Family Science
,
Curiosity Machine
,
Technovation Challenge
,
Scientists and Engineers' Outreach
, and
Studio Programs
. While the focus is on STEM, most activities lend themselves well to STEAM, since art and creativity are such a vital part of the inventive and planning processes.
Curiosity Machine
is an online design challenge that welcomes kids to create unique inventions to solve problems. Children can learn and invent with scientists and learning experts who mentor them as they share their projects and ideas. This program was awarded a 2-year Transforming STEM Learning (TSL) Grant from the National Science Foundation (NSF). Watch the video below for an overview.
Additionally,
Iridescent
announced in March of this year that it will incorporate its virtual curriculum to support the President's National Parks
"Every Kid in a Park" Initiative
. This will give some kids the opportunity to explore the physics and engineering of the wonderful flora and fauna they observe in our National parks. See some examples of working models that kids made themselves in the video below.


What is nice about many of the Curiosity Machine programs is that they look to the natural world. By asking questions, kids explore basic physics and engineering fundamentals while they discover mechanisms of how things can move and work. This platform is very relatable for young explorers with curious minds and allows them to learn about the world around them with a hands-on approach. It is also a good reminder that many inventions have come to light from looking directly at nature's examples and mimicking them. There are still many lessons to be learned from our natural world and many solutions to problems yet to be modeled after nature.


"Study nature, love nature, stay close to nature. It will never fail you."
- Frank Lloyd Wright



Teaming kids with scientists and engineers is an winning combination, as it sparks children's imaginations and their engagement. Curiosity Machine has a wide array of videos on many subjects to inspire minds, like the one below from an engineer who created his very own flying robotic hummingbird by modeling its wings closely to the original.



Discover
Curiosity Machine
's challenge program and the other programs that
Iridescent
hosts to supplement your child's learning. Alternately, if you are a scientist or engineer, consider becoming part of their
mentor
program. They are also in need of
volunteer
translators, consultants, and mentors for girls to expand their programs. Any
support
that can be given towards their very worthwhile offerings to inspire children in STEM fields is very much appreciated.
Tags: #art #biomimicry #education #engineering #nature #resource #science #STEM #STEAM
Top photo credit:
© Lilian F Norris
If you purchase any products through links in this post, I may receive small commissions. I thank you for your support.