Credit: BBC Brit
Let me clarify, watching the video by BBC Brit is the only way you should create a big bang with
chemistry
, unless you are a chemist who has the proper knowledge and the facilities to do so safely. BBC Brit has delivered an exceptional, educational tool in this video in which you virtually participate in making some big bangs!
This may well be "the most awesome INTERACTIVE science experiment on the internet, as the host of BBC Brit proclaims. Your challenge is to pick two reagents of the eight listed that will give you the "biggest bang!" You choose the combination and then watch as the reaction unfolds. You can keep trying again and again until, at last, you have achieved the "biggest bang."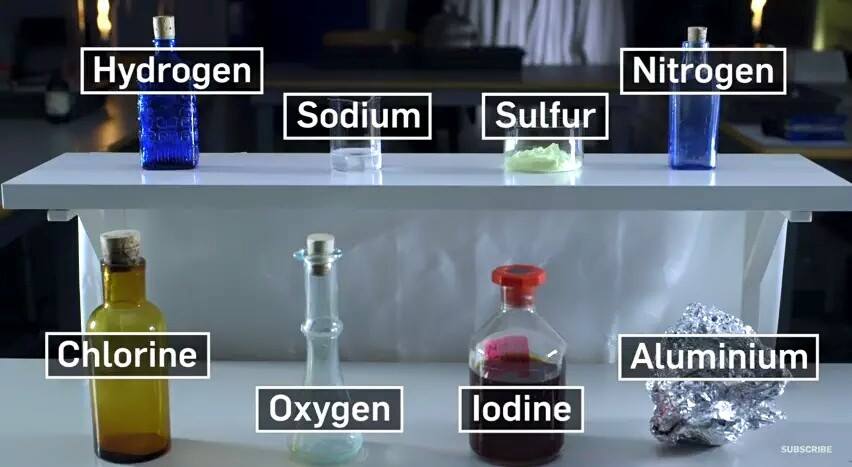 Credit: BBC Brit
Mixing these chemicals in real life is something that you should never do at home or on own your own.
These chemical reactions are very dangerous, and as you can see in the videos, many do explode. As BBC Brit's narrator indicates, the great thing about participating in this interactive video is that you can virtually do the experiment with no smelly fumes or messes.
This video is definitely the safest and cleanest way to do chemistry! Please
remember if you ever want to do
chemistry
experiments, you should
always do so with proper, adult supervision and with proper safety equipment.


This video is very entertaining, educational, comical, and very well done. It is fun to just listen to the narrator as he tries to encourage you to choose your reagents. Your first choice will be automatically selected for you if you take too long to decide. The video will eventually come to an end without doing an experiment if you do not make your second selection, but it is worth it just to listen until the end to the very witty narrator. He had me laughing out loud! Kudos to the writers of the scripts! So have at it now.

Check out BBC Brit's great interactive video on chemistry below:


If you purchase any products through links in this post, I may receive small commissions. I thank you for your support.


---