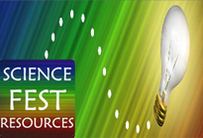 RECOMMENDATIONS
In this blog I may recommend products that I believe are good based on my own experience or from having thoroughly researched the product. When doing so, I will directly state if I have direct experience with the product within the post. My credibility online means everything, so I take responsibility as an affiliate marketer very seriously.
Science Festival Resources DOES NOT do any paid reviews. ScienceFestivalResources.com or the owner assume no liability for products purchased from third-party websites or sponsor ads. Please make sure you read the terms and conditions of any product you purchase.
ADVERTISEMENTS
Advertisements are not endorsements. We also use some third-party advertising companies to serve ads when you visit this site. This website uses Google Adsense, a Web-advertising-service of Google Inc., United States ("Google"). Google Adsense uses "cookies" (text files) that are stored on your computer and allows an analysis of the use of the Website by you. Google Adsense also uses so-called "web beacons" (small invisible images) to gather information. Through the use of Web beacons simple actions such as the visitor traffic to the website can be recorded and collected. The information generated by the cookie and / or Web Beacon information about your use of ScienceFestivalResources.com, including your IP address will be transferred to a Google server in the U.S. and stored there. Google will use this information to evaluate your use of the site in order to show, compiling reports on website activity and ads for website operators and providing other use of this website and internet related services. Even Google is able to transmit this information to third parties unless required by law or if third parties process this data on Google's behalf. Google will not associate your IP address with any other data held by Google. Storing cookies on your hard drive and the display of Web Beacons you can avoid by choosing to accept in your browser settings, "cookies" (in MS Internet Explorer under "Tools> Internet Options> Privacy> Settings", in Firefox under Tools> Settings> Privacy> Cookies), we would point out however that in this case you can not use all the features of this website. By using this site you agree to the processing of data about you by Google in the manner described, and agree to the aforementioned purpose.
AFFILIATE SALES:
This website participates in the Amazon Services LLC Associates Program, an affiliate advertising program designed to provide a means for sites to earn advertising fees by advertising and linking to amazon.com. This website also participates in the iPage Affiliate program, iTunes Affiliate Program, and the Zazzle Affiliate program.
In the posts and sidebar, there may be links to other sites. Some of these links are affiliate links. This means that if you purchase something from that site after clicking over from Science Festival Resources, I receive a tiny percentage of the sale. Clicking through these links does not add any more to your cost.
DISCLOSURE:
Science Festival Resources is a resource hub and blog written and edited by Lilian F Norris. On this blog, I may highlight new and interesting STEM, STEAM, and Makers news and topics, and I will always try to provide great resources and ideas as I come across them.
DISCLAIMER:
I am a science educator, and the views and opinions expressed on this site are my own, based on my experience with children. Please consult a professional if you suspect any medical, educational, or developmental issues with your child.
Science Festival Resources is not responsible for recirculated content from this blog on other blogs or websites without our permission.
PRIVACY POLICY:
Science Festival Resources does not share personal information with third parties nor do I store any information about your visit to this blog other than to analyze and optimize your content and reading experience through the use of cookies. You may turn off the use of cookies at anytime by changing your own specific browser settings.
This website uses Google Analytics, a web analytics service provided by Google, Inc. ('Google'). Google Analytics uses 'cookies', which are text files placed on your computer, to help the website analyse how visitors use the site. The information generated by the cookie about your use of this website will generally be transmitted to, and stored by, Google on a server in the USA. If IP anonymisation ('masking') has been activated on this website, however, and you are located in a member state of the European Union or in another state that is party to the European Economic Area (EEA) Agreement, your IP address will first be abbreviated by Google, the full IP address only being transmitted to a Google server in the USA in exceptional cases before being abbreviated there. Google will use this information on behalf of the operator of this website for the purpose of evaluating your use of the website, compiling reports on website activity and providing the website operator with other services relating to website activity and internet usage. The IP address transmitted from your browser by Google Analytics will not be associated with any other data held by Google. You may refuse the use of cookies by selecting the appropriate settings on your browser; however, please note that if you do this you may not be able to use the full functionality of this website. Moreover, you can prevent the data which the cookie generates on your use of the website (incl. your IP address) from being acquired and processed by Google, by downloading and installing the Opt-out Browser Add-on from the the following link:
http://tools.google.com/dlpage/gaoptout?hl=en
.
This privacy policy is subject to change without notice and was last updated on November 28, 2015. If you have any questions feel free to contact me directly at webmaster@sciencefestivalresources.com.